The event was organized on May 11, 2022, regarding the Introduction of Perilla as a New Cash crop in Uttarakhand. Hon'ble Agriculture and Farmers Welfare Minister Shri Ganesh Joshi inaugurated the event. He distributed the improved variety of seeds to the farmers from various districts of Uttarakhand.
Dr. Nirpendra Chauhan Director, Centre for Aromatic Plants(CAP), Selaqui provided detailed information about the achievements of the Institute. He also stated that a new variety of Perilla seed has obtained the US Patent and has a better yield which will give economic benefits to the farmers.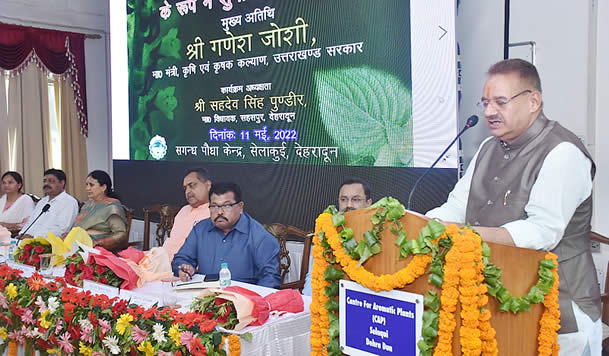 Dr. Sunil Shah also delivered a detailed presentation about various aspects of Perilla cultivation.
Hon'ble MLA , Shaspur , Shri Sahdev Singh Pundir, Dr. Ram Bilas Yadav Additional Secretary, Agriculture and Farmers Welfare, Mr. Yadav, Director, Fisheries, and Dr. Hema Lohani , Scientific Advisor were also present at the event.